The SBA 504 is designed for small businesses that want to invest in expansion but still maintain cash for working capital. As such, it provides fixed, below-market interest rates with longer loan term options and lower down payment requirements.
SBA 504 loans are provided in conjunction with a bank or other primary lender, financing up to 40% of the total cost of commercial real estate projects and equipment purchases. These features are ideal for a wide range of businesses, even if they already qualify for a conventional loan.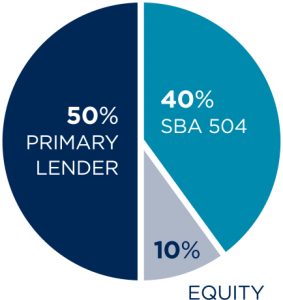 SBA 504 HIGHLIGHTS

Loans up to $5 million ($5.5 million for manufacturing)​
Terms of 10, 20, or 25 years​
Low, fixed rate for entire term​
Debt refinance is eligible
Funds can only be used for real estate and equipment


ELIGIBILITY REQUIREMENTS
For-profit, operating business​es
Average net income of $5 million or less and tangible net worth of $15 million or less​
For real estate projects, borrower's business must occupy 51% of the building​ (60% for new construction)


WANT TO FIND OUT IF THE SBA 504 IS RIGHT FOR YOU?
Just contact us and we'll run some numbers… even if you already qualify for a conventional loan, or are thinking about refinancing an existing one.