The Ohio 166 is a State-backed loan designed for small businesses that want to invest in expansion but still maintain cash for working capital. As such, it provides longer loan terms at fixed, below-market interest rates with lower down payment requirements.
Ohio 166 loans are provided in conjunction with a bank or other primary lender, financing up to 30 to 40% of the total cost of commercial real estate projects and equipment purchases. These features are ideal for a wide range of businesses, even if they already qualify for a conventional loan.


OHIO 166 HIGHLIGHTS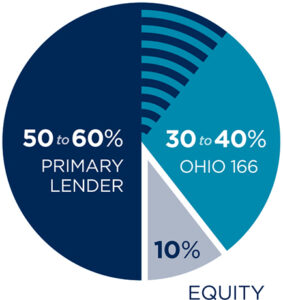 Loans up to $1,000,000
Terms up to 20 years on real estate or ​10 years on M&E

Low, fixed rate for entire term​

Job creation is required
Funds can only be used for real estate and equipment
No prepayment penalty


ELIGIBILITY REQUIREMENTS
Typically must be a for-profit business
Owner-occupied commercial real estate (60% new construction; 51% existing building)
Job creation/retention requirement
Retail businesses are not eligible


WANT TO FIND OUT IF THE OHIO 166 IS RIGHT FOR YOU?
Just contact us and we'll talk about your project. Even if you already qualify for a conventional loan, we'll help you evaluate all the options and make the best decision for your small business.