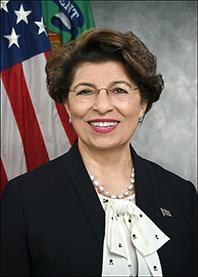 Last week, Linda McMahon announced that effective April 12, 2019 she would be stepping down as the Head of the SBA.
President Donald Trump is expected to nominate a familiar face to fill the position.
Jovita Carranza is the 44th Treasurer of the United States of America and previously served as Deputy Administrator for the U.S. Small Business Administration under President George W. Bush. Carranza also served as Vice President of Air Operation for the United Postal Service and is the founder of JCR Group, a supply-chain management company. She is a Chicago native and will need Senate confirmation prior to appointment.