The U.S. Small Business Association's 504 Loan Program provides funding for up to 40% of the total cost of commercial real estate projects and equipment purchases for longer loan terms at fixed, below market interest rates with lower down payment requirements. OSDC offers this loan program throughout Ohio.
What is a 504 Loan?
Direct loan to the business for $50,000 – $5 million or up to $5.5 million if a manufacturer or if project scope includes a renewable energy system.
The interest rate is fixed for the loan term that can be 10 or 20 years.
The 504 loan takes a second mortgage and/or second lien collateral position.
Another lender must provide at least as much project financing as the 504 loan
How it works:
OSDC partners with a participating lender to provide the appropriate financing solution. The lender holds a first mortgage and/or lien filing and OSDC/SBA provides permanent, subordinate financing.
A bank or other lender provides 50% of the required financing for an eligible project.
OSDC provides up to a maximum of 40% of required financing for the purchase, construction or improvement of fixed assets.
The business contributes a minimum of 10% as an equity injection.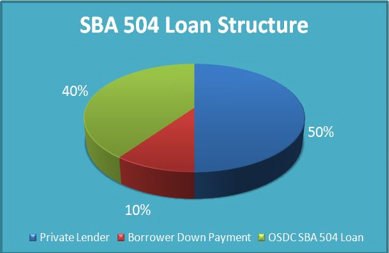 Fees
$500 non-refundable application fee.
2.65% of SBA loan portion, financed into loan.
½ of 1% of lender loan amount.
Reasonable legal, closing and related costs
Eligible projects include:
Land and/or Building Purchases
Machinery and Equipment Purchases
Building Construction and/or Renovations
Purchase of Existing Business' Fixed Assets
Long-term Leasehold Improvements
Business requirements include:
Owner-occupied commercial real estate

In new construction, business must occupy 60% of the premises with potential of reaching 80%
In existing buildings, business must occupy 51% of the premises

Job Creation or Retention: One job for every $75,000 of SBA 504 Funding; For small manufacturers, one job for every $100,000 of SBA 504 Funding.
SBA Public Policies: If project addresses an SBA Public Policy, Job Creation/Retention Requirements do not apply

Rural Business Development/Expansion
Woman/Minority/Veteran Owned Businesses
Business District Revitalization
Expansion of Exports
Qualified Energy Efficiency Projects
Promotes Community Development

Borrowers must be For Profit Businesses with net worth less than $15 million
Business annual net earnings must be less than $5 million after taxes on average over last two years.
Business must inject minimum 10% down payment
Financing for owner occupied commercial real estate; No passive investments
Available Funding: Maximum 40% of Project Cost up to $5 million; May be eligible for up to 5.5 million if project is a Small Manufacturer or if project scope includes a renewable energy system.
Equity injection from 10% to 20% of the total project cost is required.
Minimum collateral requirements are 2nd mortgage or lien position on project assets and personal guarantees of individuals with greater than 20% ownership.